Posted on May 18 2023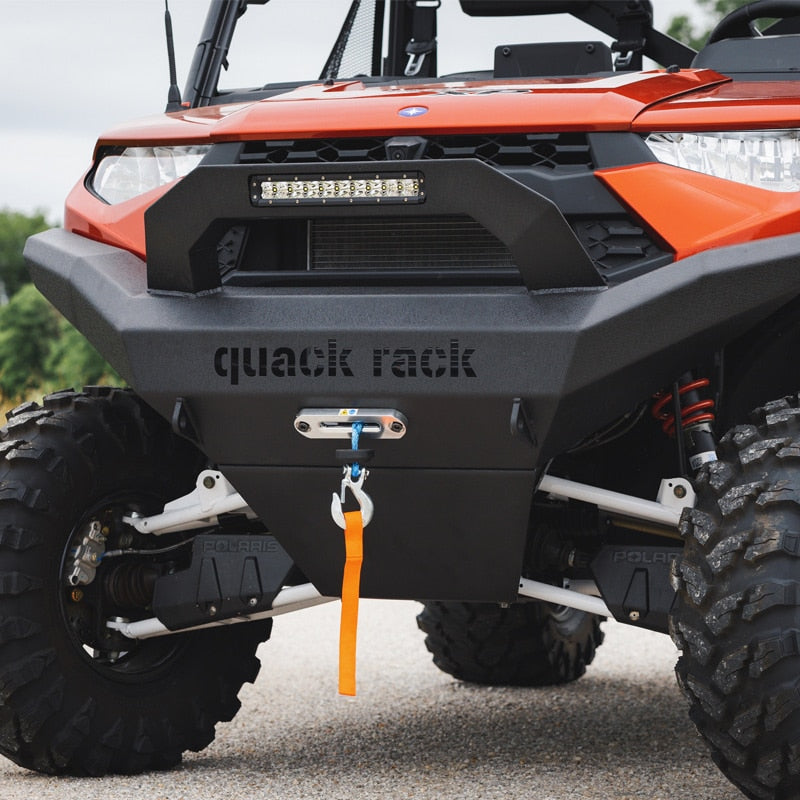 Enhance
Your Vehicle's Style and Protection with the [QR] Front Bumper 
As passionate outdoor enthusiasts and UTV owners, we know firsthand the rigorous demands our vehicles face in the field. That's precisely why we have engineered the [QR] Front Bumper, a precision-crafted, one-piece aftermarket solution that brings unrivaled strength, style, and functionality to the front end of your UTV. In this blog post, we will delve into the exceptional features and benefits of the [QR] Front Bumper, designed to withstand the harshest conditions and provide the ultimate off-road experience.
Superior Strength and Style:
The [QR] Front Bumper is a precision-engineered full replacement bumper, meticulously designed to bring superior strength and style to your UTV. Crafted from 12 gauge steel, this one-piece bumper provides unmatched durability and resilience, ensuring it can withstand the most demanding terrains and protect your vehicle's front end from potential damage. Its precision-formed design not only enhances strength but also adds a touch of rugged elegance to your UTV, setting you apart from the crowd.
Hassle-Free Bolt-On Installation:
Installing the [QR] Front Bumper is a breeze, thanks to its complete bolt-on design that utilizes the existing OEM mounting points on your UTV. With no drilling required, you can easily attach the bumper to your vehicle, ensuring a secure and seamless fit. The upgraded security bracket system adds an extra layer of strength, guaranteeing that the bumper remains firmly in place, even during intense off-road adventures.
Winch Compatibility and Ultimate Versatility:
The [QR] Front Bumper is designed to accommodate most UTV winches on the market, thanks to its recessed winch mount design. Whether you're facing challenging situations or simply need assistance in sticky spots, the front bumper holds up to a 5,000lb winch (winch sold separately), providing you with the power and reliability to get out of any predicament. This versatility ensures that the [QR] Front Bumper becomes an invaluable asset during your off-road journeys.
Customizable Upgrades:
We understand that each UTV owner has unique preferences, which is why the [QR] Front Bumper offers numerous upgrade options. For added functionality and a distinctive look, you can choose to include a bull bar and a 12" LED light bar (bull bar required for LED light mounting). These upgrades not only enhance the aesthetic appeal of your UTV but also provide additional lighting and protection during nighttime rides or challenging off-road conditions.
Seamless Integration with [QR] Front Rack:
If you're looking for a complete UTV transformation, the [QR] Front Bumper is compatible with the [QR] Front Rack (requires aftermarket H Bracket). By combining both products, you can achieve a cohesive and rugged appearance while enjoying the benefits of enhanced storage and versatility for your UTV.
When it comes to upgrading your UTV's front end, the [QR] Front Bumper surpasses expectations with its unbeatable combination of strength, style, and functionality. With its precision-engineered construction, easy bolt-on installation, winch compatibility, and customizable upgrades, this bumper is designed to enhance your off-road experience and keep your UTV protected in the toughest conditions. Elevate your adventures and stand out from the crowd with the [QR] Front Bumper - the ultimate choice for UTV enthusiasts.
Click here to shop the [QR] Front Bumper today.