Posted on June 09 2023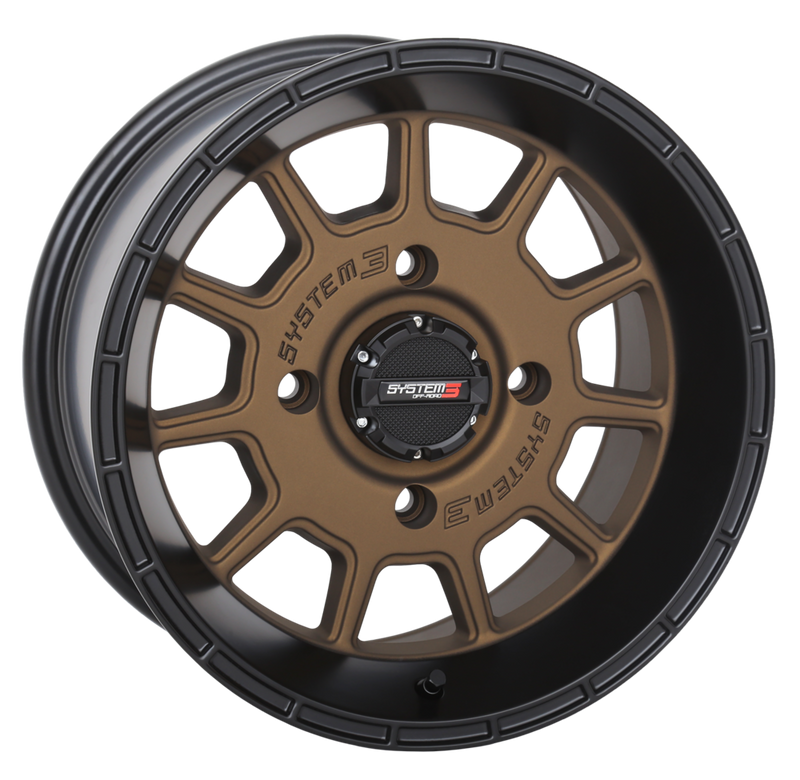 System 3 Offroad's ST-5 Wheels
This is by far one of our favorite wheels available, so much so we've run them in sizes all the way from a 15" to 22" As a crucial component that can significantly enhance your vehicle's capabilities is the wheel, the ST5 Wheel from System3 Off-Road is an 11-spoke Rally style design wheel that not only adds a touch of rugged elegance to your vehicle but also delivers outstanding strength and performance. Let's dive into the key features of the ST5 Wheel and discover how it can elevate your off-road experience.
11-Spoke Rally Style Design:
The ST5 Wheel features a striking 11-spoke Rally style design that exudes confidence and aggression. This bold and rugged aesthetic adds a powerful presence to your vehicle, making it stand out both on and off the trails. The stylish design of the ST5 Wheel ensures that your vehicle catches the eye of fellow off-roading enthusiasts and turns heads wherever you go.
10-Inch Wide Sizes:
System3 Off-Road has taken customization to the next level with the introduction of new 10-inch wide sizes for the ST5 Wheel. This wider stance not only enhances the overall appearance of your vehicle but also improves stability and cornering performance. The added width allows for larger tires, providing increased traction and improved off-road capabilities. With the new 10-inch wide sizes, you can confidently tackle challenging terrains and push your off-road adventures to new heights.
Factory-Installed Valve Stem and Bolt-In Center Cap:
System3 Off-Road understands the importance of convenience and ease of use. That's why the ST5 Wheel comes with a factory-installed valve stem and bolt-in center cap. This thoughtful design ensures effortless installation and simplifies maintenance. With the ST5 Wheel, you can quickly and easily mount it on your vehicle, saving you valuable time and effort.
1200-Pound Load Rating:
Off-roading often involves carrying extra gear and equipment, and your wheels need to handle the additional weight without compromising performance. The ST5 Wheel boasts an impressive 1200-pound load rating, demonstrating its strength and durability. Whether you're hauling camping gear, tackling rocky trails, or venturing into extreme off-road conditions, you can trust that the ST5 Wheel will handle the weight and provide reliable performance.
Wide Range of Sizes:
System3 Off-Road understands that different vehicles require different fitments. That's why the ST5 Wheel is available in a wide range of sizes. Whether you need 14x10, 15x10, 14x7, or 15x7 sizes, you can find the perfect fit for your specific vehicle. This ensures optimal performance, proper fitment, and compatibility, allowing you to maximize both style and functionality.
Lifetime Limited Warranty:
System3 Off-Road stands behind the quality and craftsmanship of the ST5 Wheel. To provide you with peace of mind, the ST5 Wheel is backed by a lifetime limited warranty ensuring that your investment is protected for the long haul.
In Conclusion:
You can't go wrong with the ST-5. With its 11-spoke Rally style design, new 10-inch wide sizes, factory-installed valve stem and bolt-in center cap, 1200-pound load rating, a wide range of sizes, and a lifetime limited warranty, the ST5 Wheel combines style, strength, and performance. Enhance the appearance of your vehicle, improve stability, and conquer challenging terrains with confidence. 
Don't hesitate to contact us today for more information on wheels and anything you may need help with.